Tyler County Family Clinic will send two health providers to our school on July 28 beginning at 8:30 am to administer both athletic and band physicals. The cost per student is $20.

ear School and Community, Weather Update for September 14, 2021 Based on reports and briefings we have received from the National Weather Service, we believe the effects of the weather will not be a factor in our area. We will begin school at 10:00 am today. Please note the change in bus times (about 2 hours later than normal) and plan accordingly: · Buses 8 and 9 will leave the district at 8:15 am · Buses 7 and 10 will leave the district at 9:00 am · Bus 4 will leave the district at 8:50 am Breakfast will not be served today, 9/14/2021. Administrative and front office personnel will need to report for duty by 8:45 am. All other staff will need to report to work by 9:00 am today. Sincerely, Eldon Franco, Superintendent

Colmesneil ISD will have a delayed start at 10:00am tomorrow, September 14, 2021. This will allow us time to evaluate the impact of the storms and potential flooding in our area associated with Tropical Storm Nicholas. Please note the change in bus times (about 2 hours later than normal) and plan accordingly: Buses 8 and 9 will leave the district at 8:15 am Buses 7 and 10 will leave the district at 9:00 am Bus 4 will leave the district at 8:50 am Breakfast will not be served tomorrow (9/14/2021). We will continue to monitor the storm and keep you informed should anything change. Thank you and stay safe.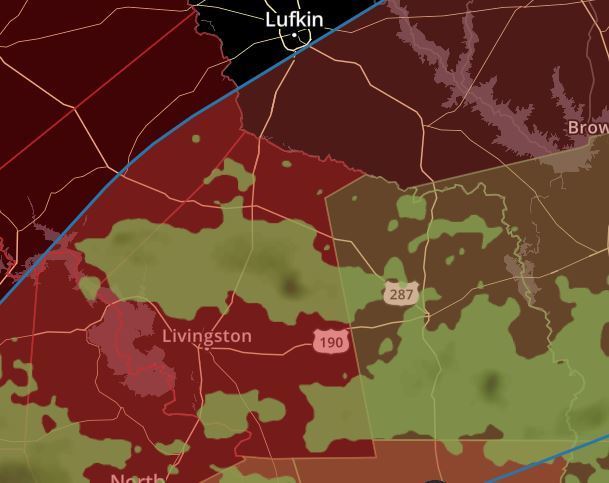 Dear School and Community, It is with much regret that I have to post this message. Our Homecoming game will have to be rescheduled for October 29, 2021, against Mount Enterprise. Even though, as is our understanding, High Island has enough players to compete, they are refusing to play and have chosen to forfeit the game. The district apologizes for the inconvenience this has created among our alumni¸ community and student body. We are monitoring the weather situation during this time. Please make sure you monitor the district website and social media outlets for the most up-to-date information. Sincerely, Eldon Franco, Superintendent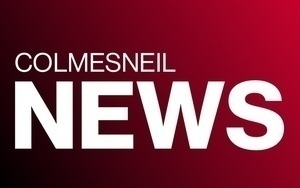 Thinking of a career in the salon industry? The Academy of Hair Design in Lufkin would like to formally invite you to attend their first annual College Night. Parents and students are welcome. September 13, 2021 4:00-6:00 p.m. 512 S Chestnut Lufkin, TX 75901 If you have questions or would like to RSVP, contact Halley Donahoe at 936-634-8440.

100% Discount for Tuition/Books/Supplies/Uniforms! San Jac Fast Track Tuition Discount Program Are you seeking a career that's in high demand with training you can complete in a year or less? San Jac is offering 100% tuition discounts for their Fast Track programs that will set you up for a successful career. Required books, supplies, and/or uniforms are included. The discount is automatically applied when you register. Limited funding and spots available. Don't miss out!
https://www.sanjac.edu/admissions-aid/scholarships-grants/fast-track-tuition-discount-program

Welcome back, Bulldogs!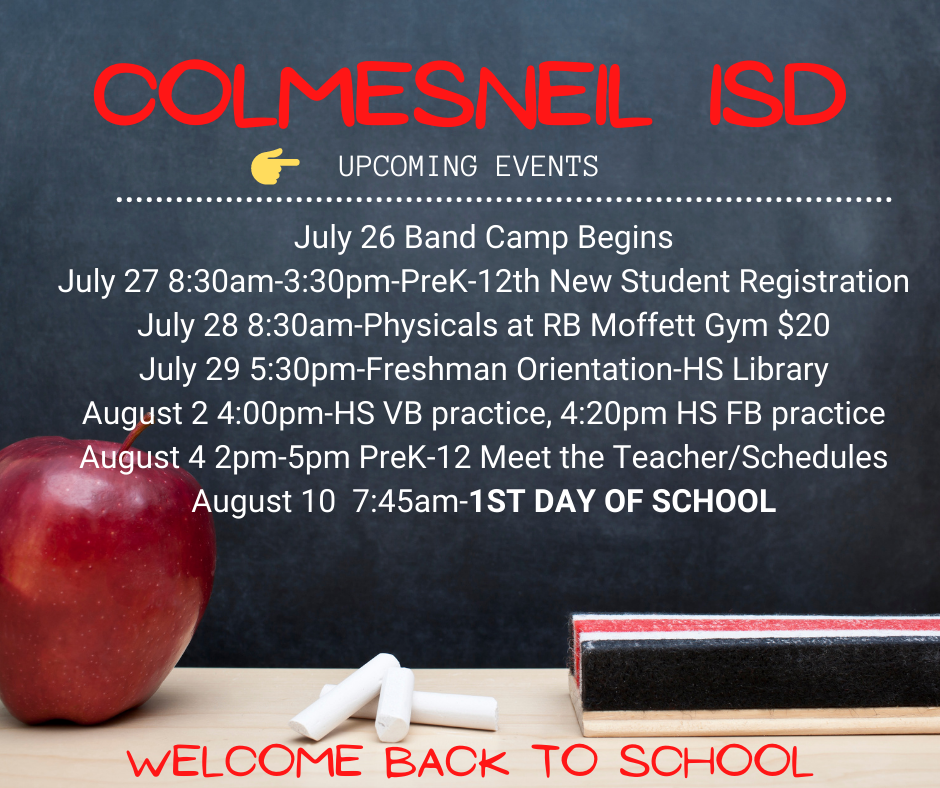 Celebrate Independence Day!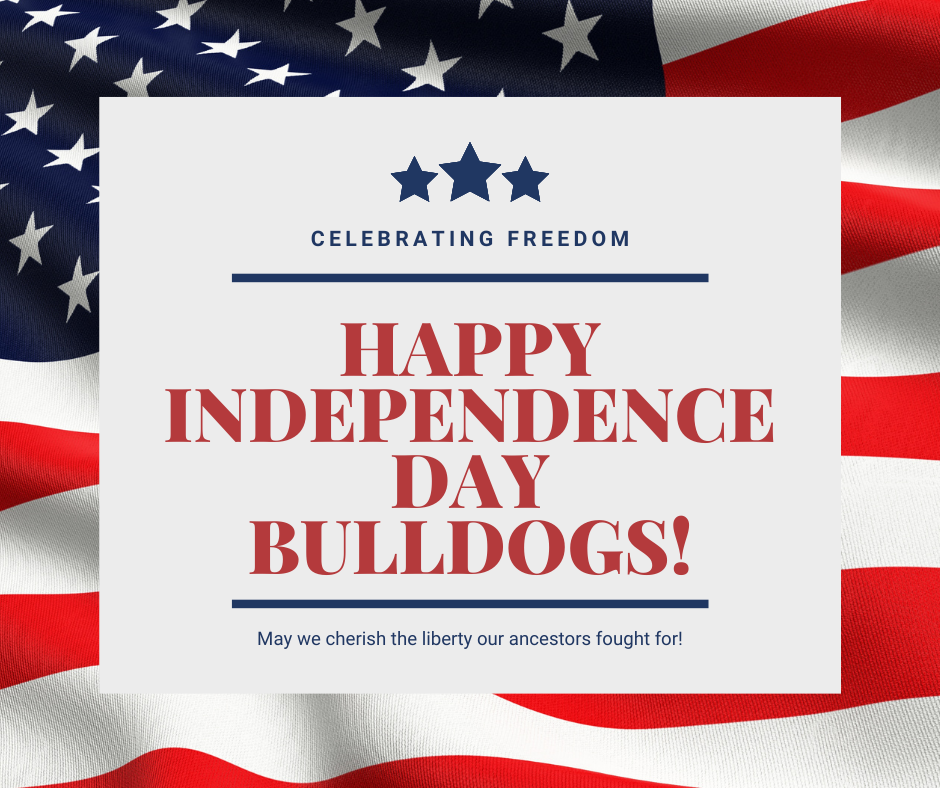 Activities for the last week of school.

We are going to dismiss school at 1:30 today. We are making arrangements to get the students home as needed. Staff will be dismissed as soon as the last students leave. We will be going virtual tomorrow, so students will need to check in with their teachers during their designated class time. We will announce tomorrow plans for Wednesday. If you have any questions, please let your campus principal know ASAP. Thank you and stay safe, Eldon Franco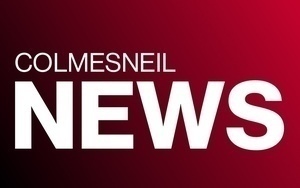 Senior Recognition has been moved from Monday to Thursday 5-20-2021 at 6:00pm in the New Gym. The move will allow for the students to bring more guests.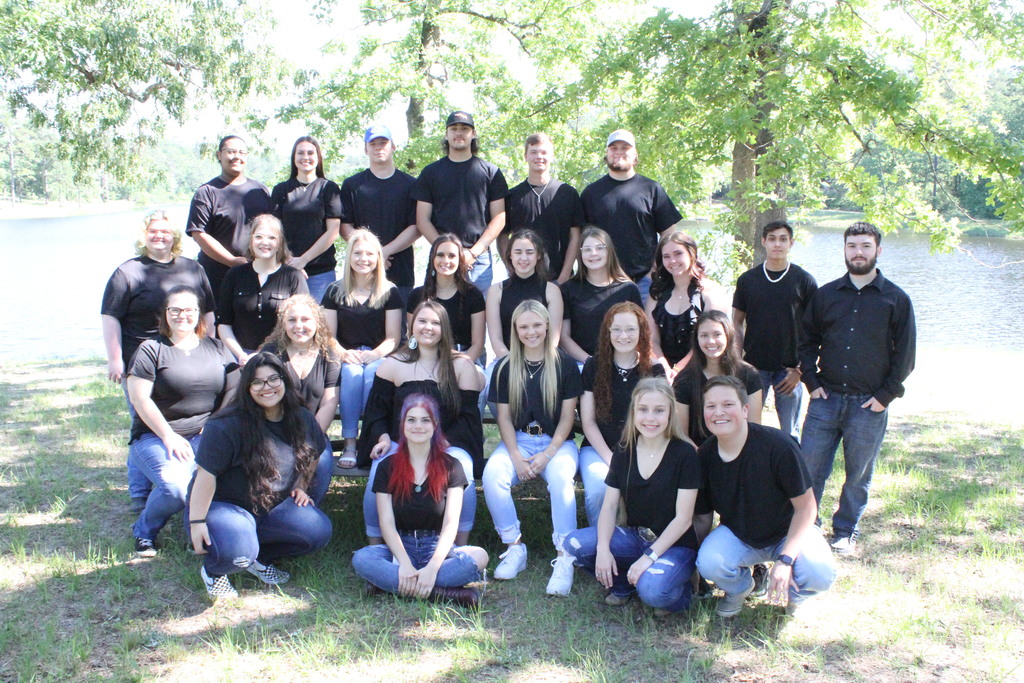 Tyler County seniors are encouraged to apply for the Tyler County Chamber of Commerce Scholarship. Local means greater odds of winning! Seniors must simply write an essay on "The Importance of Economic Development in Tyler County" and submit their essay during the Mobiloil Credit Union "Budget Reality Check" workshop for juniors and seniors Thursday, 5/20/21, at 6 p.m. at the Nutrition Center at 201 Veterans Way in Woodville (behind Whataburger). Seniors must include name, phone, current school, and attending college in their header. Submissions will not be accepted before or after this event.

HIGH SCHOOL PARENT/STUDENT INFORMATIONAL MEETINGS - A mandatory meeting for all 8th graders & parents will be held on Wednesday, May 19th at 5pm in the band hall. This meeting is to discuss high school information, grad plans, and course requests. - High School Informational Sessions will be held on Thursday, May 20th in the high school library. We will have two sessions for your convenience, 10am-11am and 1pm-2pm. This is for high school students or parents who would like to ask questions or get new information about grad plans or course requests for the upcoming school year.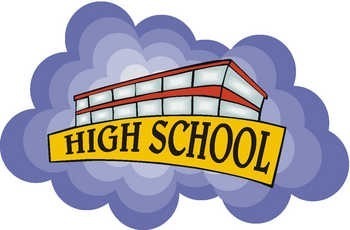 Another Career Option - Become a Certified Texas Firefighter Registration is open for the upcoming Fall 2021 Angelina College Fire Academy. This is a workforce education program, so it does not lead to a degree, but it does prepare individuals to become a certified Texas firefighter. Fire Academy will begin August 23 and end December 17. The cadets will meet Monday-Friday from 8 a.m. to 5 p.m. in Nacogdoches. See Mrs. Franco for a copy of the Fire Academy application with details about the program. Financial assistance opportunities are available.

Tyler County Area Go Texan Scholarship - Application Deadline 5/15/21 The Tyler County local scholarship committee will give away one scholarship to a senior from each school through this application process. This means a Colmesneil student WILL win a scholarship. Trade school to 4 year programs all are accepted for this local scholarship. All certifications and majors are eligible. In addition, one Tyler County senior will be awarded a $20,000.00 scholarship! Students may obtain an application from Mrs. Franco.

Winner, Winner, Chicken Dinner! Student Council presents Scott Eddins a chicken dinner as he heads to State in Poetry Interpretation.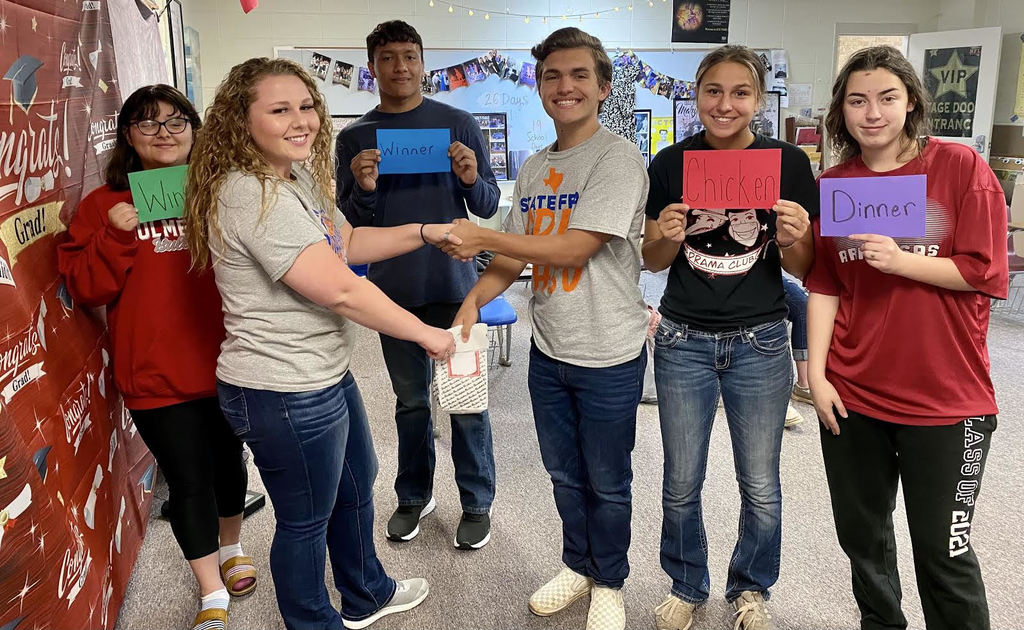 8TH GRADE PARENT/STUDENT MEETING Wednesday, May 19 @ 5pm in the Ball Hall This is a mandatory meeting is for all incoming freshmen and their parents to discuss the transition to high school, go over course plans, and course requests.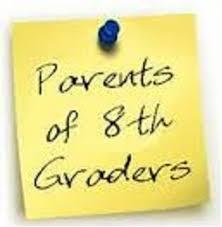 Yellow Pine Masonic Lodge Scholarship - Application Deadline 5/5/21 At least one Colmesneil student will receive this $2500 scholarship, which means there's less competition and a greater chance of being chosen! See Mrs. Franco for an application.

Student of the Week… MARSHALL BARKER Marshall is one of the most reliable, dependable, responsible students that has come through Colmesneil High School. He has a great sense of humor, a positive outlook on everything, and he is one of the most kind-hearted kiddos to walk these halls. Marshall is not afraid to try something new and he will work hard to excel at anything and everything he puts his mind to. Congratulations Marshall on being added to the CHS Student of the Week Spotlight!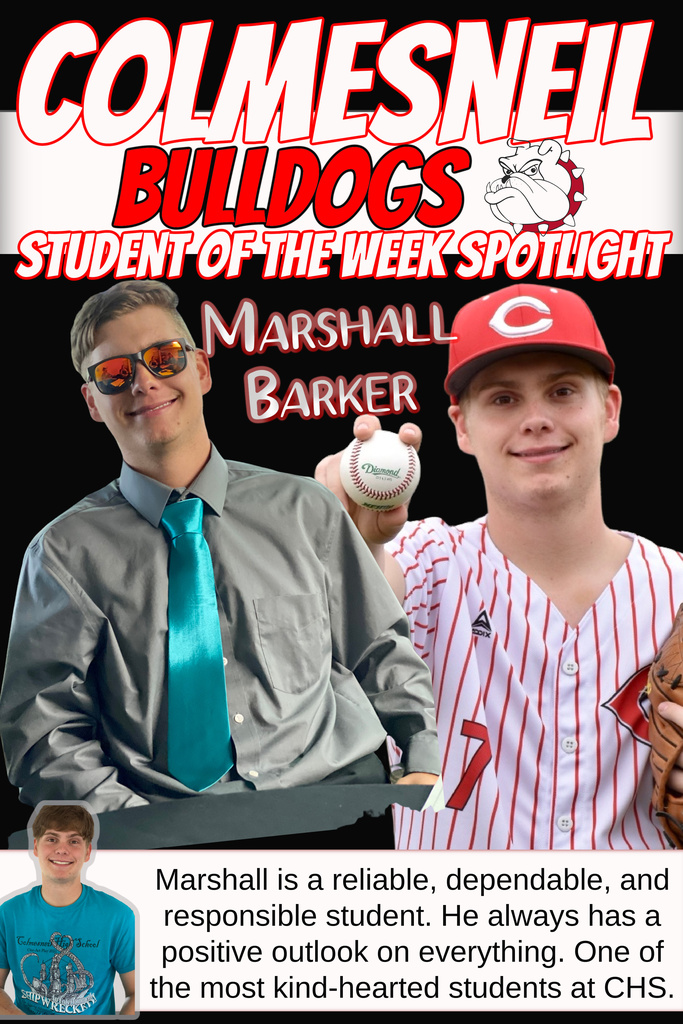 Annuity.org is a free financial web resource, accredited by the Better Business Bureau. In hopes of promoting financial literacy, they have created a comprehensive, easy-to-read guide for students. Their page covers topics like how student loans work, sticking to a budget, planning for the future and much more.
https://www.annuity.org/financial-literacy/students/