RETIREMENT PARTY HONORING YVETTE CARLTON & WALTER MCALPIN! VIEW IMAGE FOR DETAILS!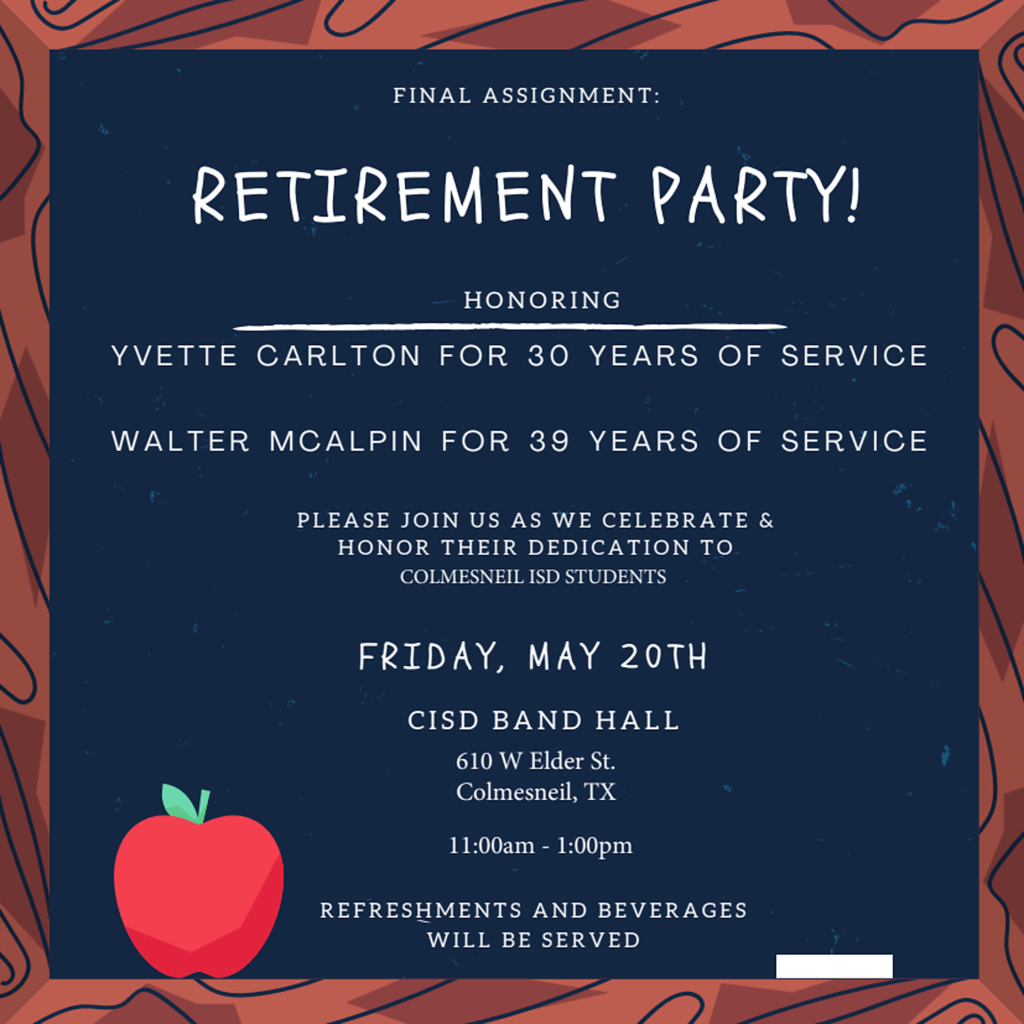 Spring Band Concert - Tuesday, May 24, 2022 - 6:30 p.m. CHS Band Hall - Everyone is invited to attend!

Earn a 2-year National Safety Council Forklift Operator Certification! The Forklift Operator training is a one-day class held at the Angelina College Lufkin campus. The course normally costs $130, but thanks to the Texas Mutual Safety Grant, participants are only responsible to pay $65. Four training dates are available during the summer term: June 10, June 24, July 8, or July 22. Individuals must be 18 in order to become certified. View image for more details. This will look great on your résumé and could give you an advantage over other job applicants!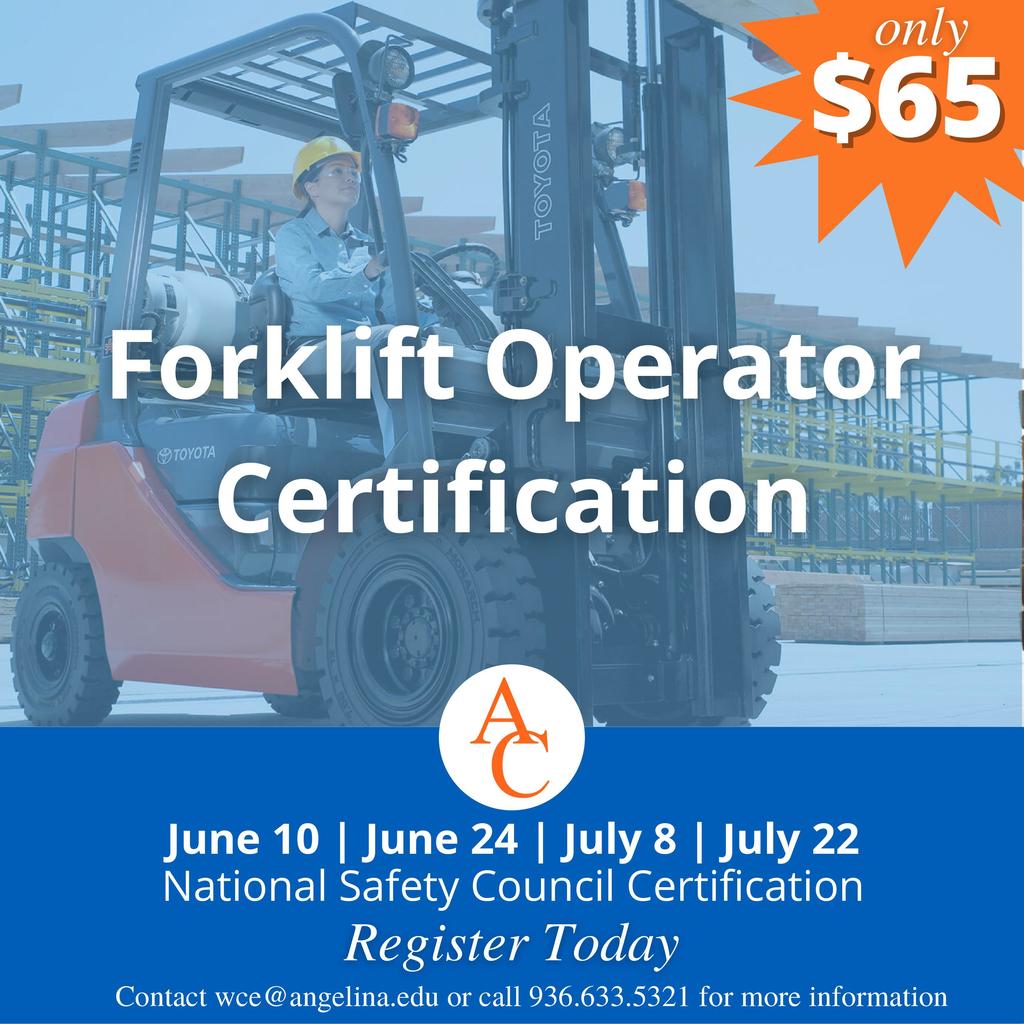 Happy National School Nurse Day to our awesome nurse, Michele Marshall! Thank you for all you do for us, Michele!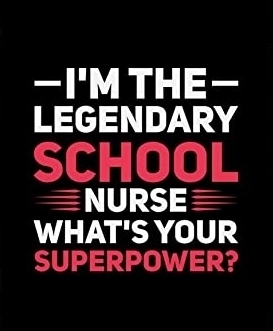 Incredibly proud of our staff and student heroes today who helped us meet AND surpass our goal of donations to the Gulf Coast Regional Blood Center! We were able to donate over 30 units today and multiple plasma donations as well! Great job by our students and staff with their donations and our Senior Beta Club Members for helping run the drive.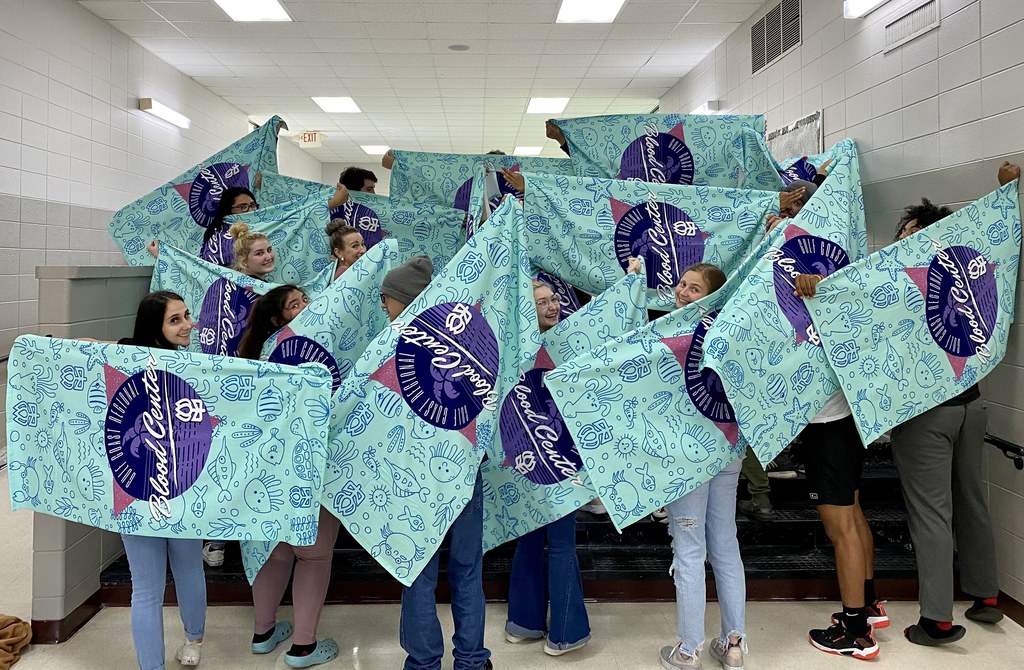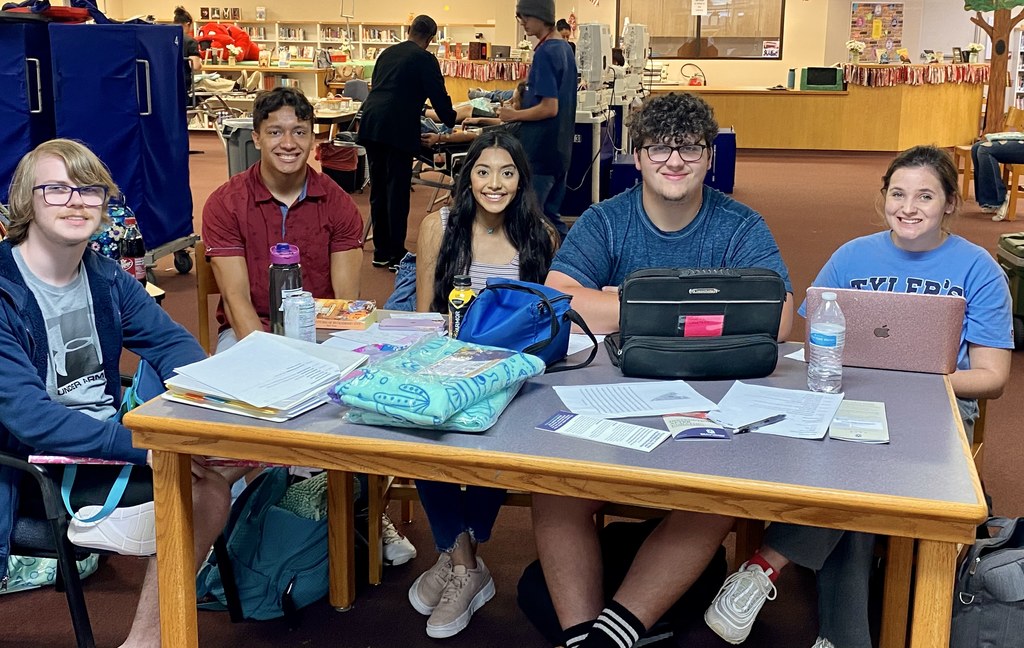 The Texas Parent Special Education Involvement Survey is Live! Randomly selected parents received an email. Selected parents of students receiving special education services are encouraged to complete the Parent Involvement Survey to share your experiences. The findings from this survey will be used to report the parent involvement indicator to the Office of Special Education Programs and provide important information to school districts. The survey is available in English, Spanish, French, Chinese, and Vietnamese. How to complete the survey: The district has sent invitations by email to randomly selected parents. Complete the survey at
http://www.parentsurveytx.com/
- you will need your PIN from the invitation. If you haven't received an invitation or can't find your PIN: 1. Contact Rachelle Weeks at 409-283-7152 to learn if you were selected and get your PIN. 2. Email
support@gibsonconsult.com
, call 512.685.2697 (English), or 512.685.2694 (Spanish) The deadline for completing the survey is May 20, 2022.

FREE Career Exploration Camp this summer for CURRENT 6th-8th grade students! View image for details.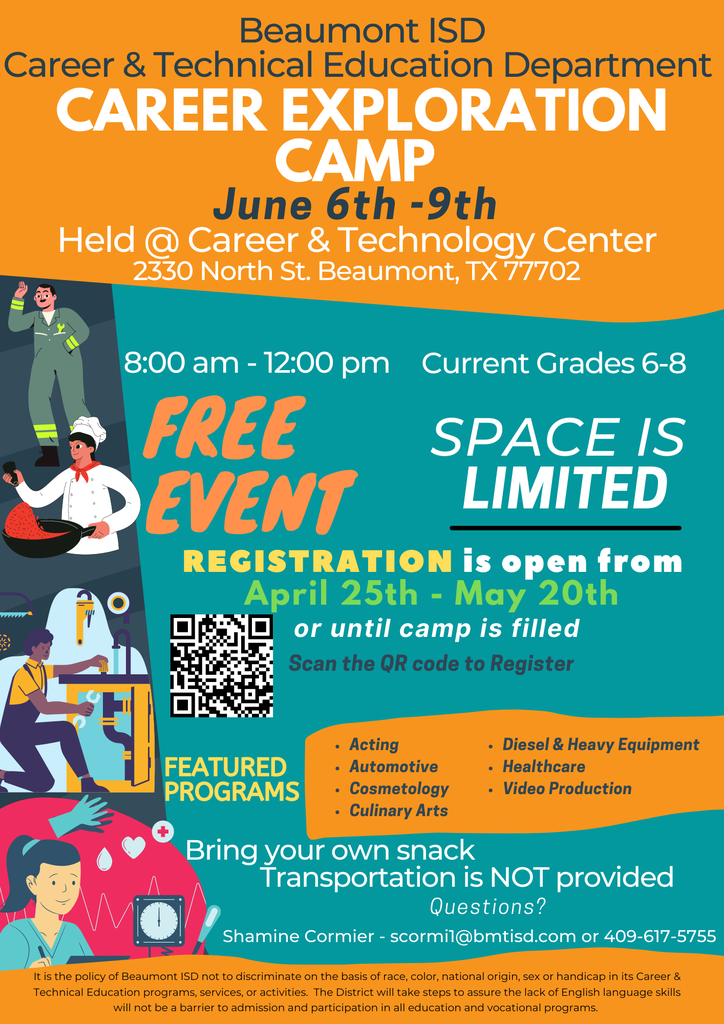 We are experiencing phone issues. Windstream has been working on it since yesterday morning and we hope to have it working later today. If you need to contact the school, email
cisd.admin@colmesneilisd.net
. We will get in touch as soon as possible. Sorry for the inconvenience.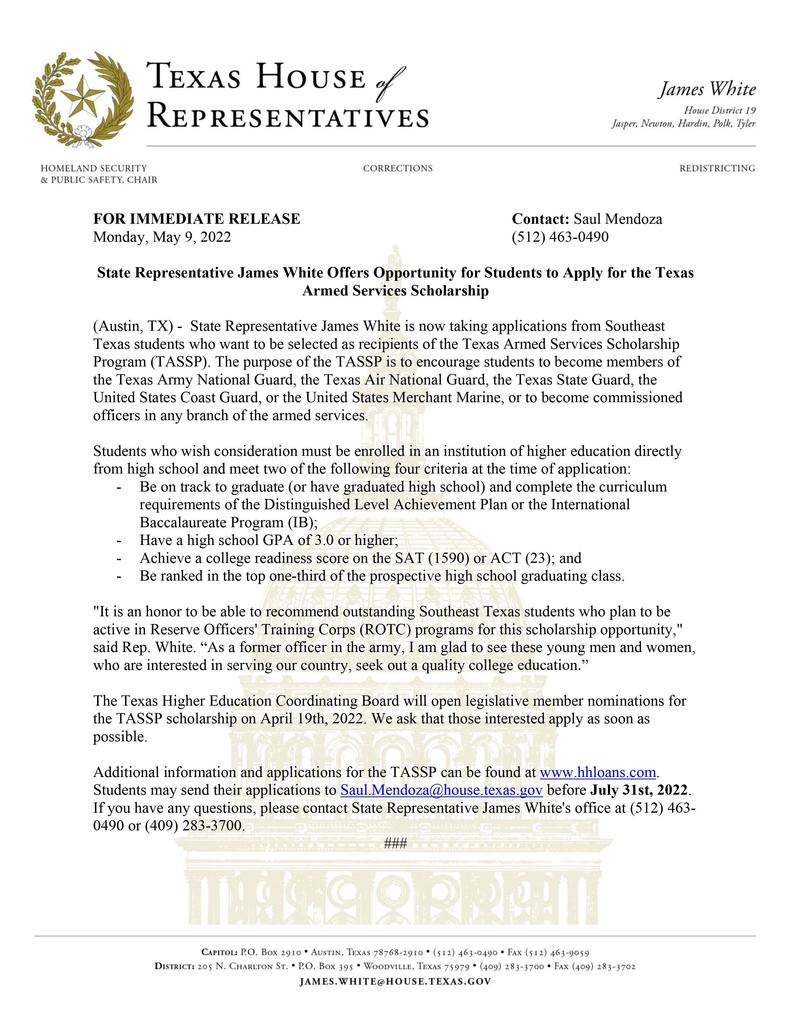 Tonight's School Board meeting has been canceled and rescheduled for NEXT Monday, 5/16/22, at 7:00 p.m.

​Yellow Pine Masonic Lodge Scholarship - Application Deadline 5/​9/22​ ​T​his $2500 scholarship​ will be awarded to a graduating Colmesneil senior​! Only students who choose to submit an application will be considered. Because competition for this scholarship is limited, there's a greater chance of being chosen! See Mrs. Franco for an application.

8th Grade Graduation and Events - Click Image for Details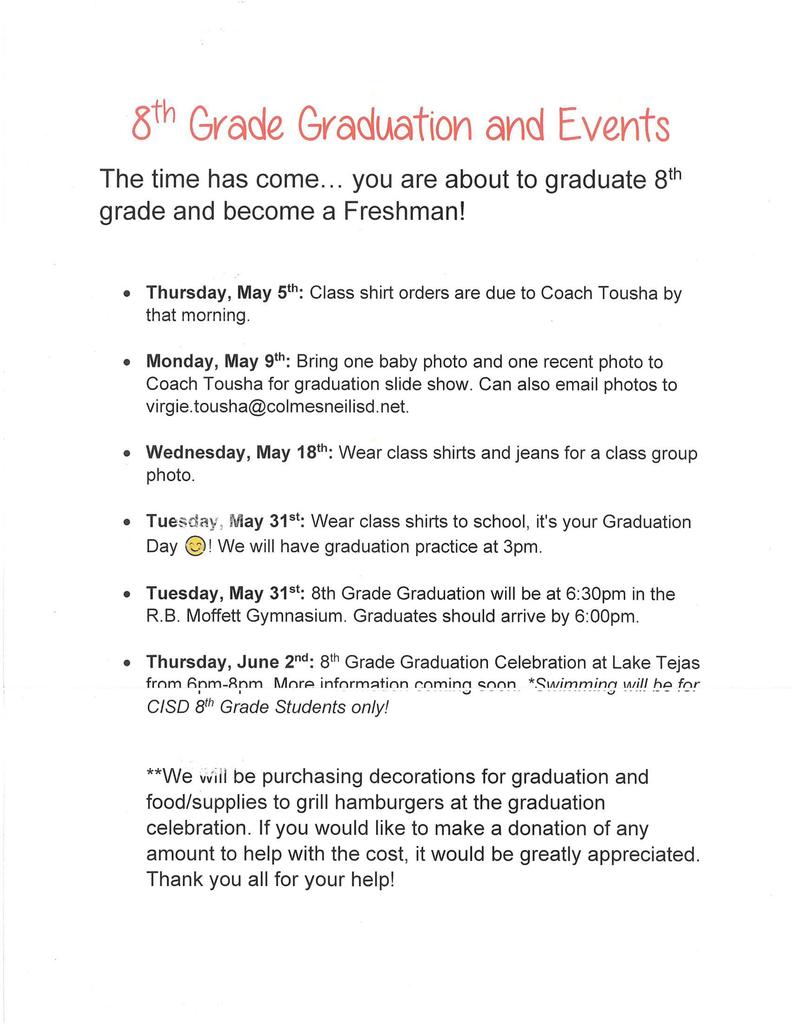 The CHS Athletic Banquet will be Monday, May 2, @ 6:30 pm in the RB Moffett Gymnasium. Tickets are $10 each including a meal and a drink. High school athletes do not need a ticket. There will also be a silent auction. If you would like to donate an auction item please let L'Chanda Courville know as soon as possible. We are asking that each athlete bring a framed 8x10 athletic photo or a framed 8x10 athletic photo collage to be displayed at the banquet. Please bring these Monday morning to be set up. Thank you!

LIFE Association Scholarship - Application Deadline 5/1/22 The LIFE Association Scholarship Fund provides scholarships of up to $5,000 to graduating high school seniors or past graduates with a degree or GED equivalent in the state of Texas. Because competition is limited to Texas students, there is a greater chance of being chosen than with a national scholarship. The scholarship may be used for tuition, fees, books, and equipment. Applicants must intend to pursue a trade or vocational degree or certification at an accredited community college or nonprofit trade school in the state of Texas. More information and online application -
https://cftexas.org/lifeassociation

Woodville Woman's Study Club Scholarship - Application Deadline 4/26/22 (Both male and female students may apply.) These scholarships are limited to the local high schools in Tyler County, which means there is less competition and a greater chance that you will be chosen as a recipient! Award is $1000 ($500 for fall semester and $500 for spring semester). The one page application is easy to complete. Stop by Mrs. Franco's room to pick up a copy. The required copy of your transcript will be printed for you.


OAP Community Performance This Sunday! See image for details.

The Senior Baccalaureate Service hosted by Katy Baptist Church in recognition of all Colmesneil graduating seniors is scheduled Sunday, May 22, 2022, at 6:00 p.m. The address is 302 N Pitzer in Colmesneil. Pictures of the seniors to be displayed at the service may be delivered to the church 5/21/22 or 5/22/22. Parents traditionally provide refreshments at the service. The cake is provided by Colmesneil ISD. All questions may be directed to Bubba Sheffield by phone call or text message to 409-377-1315.

Thursday, 4/21/22, 8:00 a.m. - Student Immunizations in Elementary Library - Sign up by 4/13/22, using this link:
https://form.jotform.com/auroraconcepts/student-vaccine-consent?School=Colmesneil%20ISD
FREE with insurance. If no insurance, cost is $10 per shot, up to 18 years old. Students 19 and over pay adult prices. Updated immunizations are required for students entering 7th grade or college next school year. Make sure your student is caught up!

Check out these student opportunities from Texas Farm Bureau! These are available for students entering 8th-12th grade next school year.