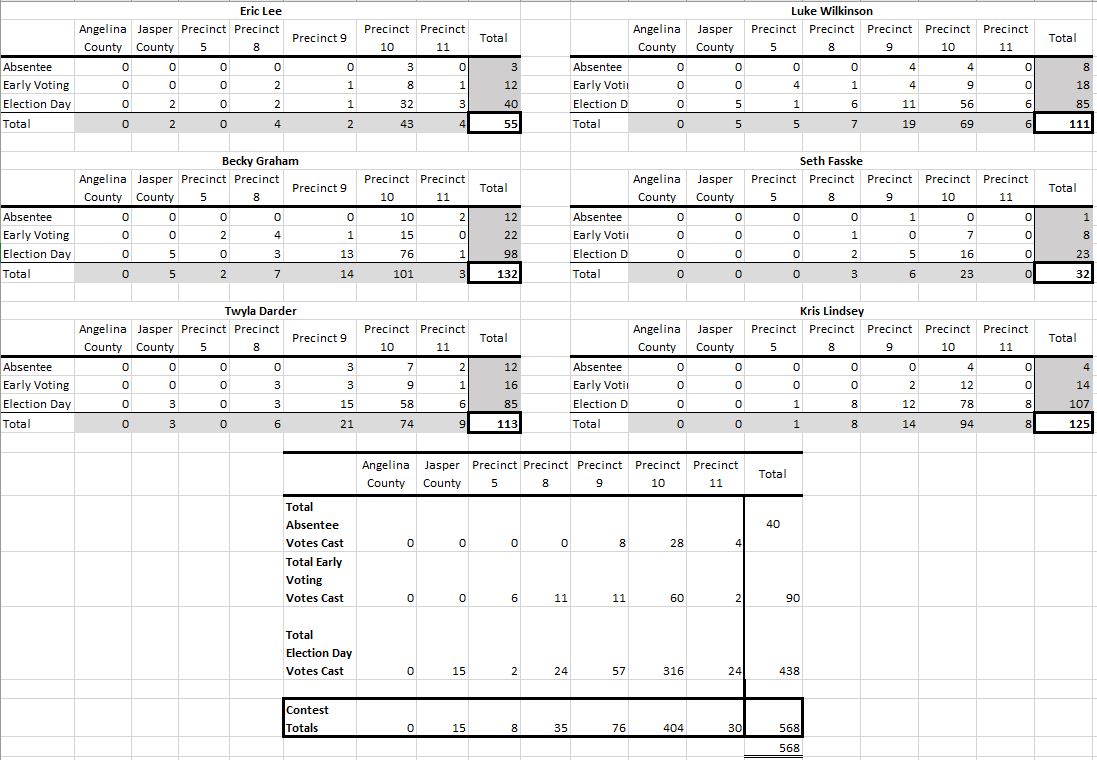 BOARD ELECTION INFORMATION
ABOUT THE BOARD OF TRUSTEES
The Colmesneil Board of Trustees consists of seven members. Board members are elected for three-year terms with elections conducted annually in November. Election of members are by place with each place representing the entire district. After each election, the board restructures and elects a president, vice-president and secretary to serve a one-year term.
The next CISD Board of Trustees election is scheduled for November 8, 2022. There are 2 at large positions up for election:
*Bo Bendy-November 2022-2025
*Kenneth Graham-November 2022-2025
ELECTION INFORMATION - Notice of Deadline to File an Application for Place on the Ballot
The District will accept candidate applications for the November 8, 2022 election on regular business days from July 23, 2022 to August 22, 2022 between 8:00 a.m. and 4:00 p.m during summer hours, and from 8:00a.m. to 4:30 p.m. during regular school days - Monday through Thursday . Candidate application packets will be available at the Colmesneil ISD Administration office beginning July 23, 2022. Applications must be received by 4:30 p.m. August 22, 2022. The last day to file a declaration of write-in candidacy is August 26, 2022.
Additional election information can be found here or to request/submit an application , please contact:
Misti Mashaw, Secretary to the Superintendent
CISD Superintendent Office
610 West Elder
Colmesneil, Texas 75938
(409) 837-5757 ext. 1000
Fax (409)837-9107
email: misti.mashaw@colmesneilisd.net
Colmesneil ISD holds a joint election with Tyler County.
GENERAL CANDIDATE QUALIFICATIONS/ELIGIBILITY
To be eligible to be a candidate for, or elected or appointed to, the office of school board member, a person must:
1.Be a United States citizen.
2.Be 18 years of age or older on the first day of the term to be filled at the election or on the date of appointment, as applicable.
3.Have not been determined by final judgement of a court exercising probate jurisdiction to be totally mentally incapacitated or partially mentally incapacitated without the right to vote.
4.Have not been finally convicted of a felony from which the person has not been pardoned or otherwise released from the resulting disabilities.
5.Have resided continuously in the state for 12 months and in the territory from which the office is elected for six months immediately preceding the following date: For an independent candidate, the date of the regular filing deadline for a candidate's application for a place on the ballot. For a write-in candidate, the date of the election at which the candidate's name is written in. **For an appointee to an office, the date the appointment is made.
6.Be registered to vote in the territory from which the office is elected on the date described at item 5, above.
For general election information, click here.